Bainbridge Island Police Department Parking Enforcement Officer Ken Lundgren.
Michael Harrell, a tree climber from Sumner, begins his ascent during the fourth annual Bainbridge Island Masters Tree Climbing Competition
2016 Island Treasure Award recipient Cameron Snow in her home studio. Snow is most renowned for her work in the medium of film, through which she has immortalized many aspects of Bainbridge Island's unique culture, heritage and environment.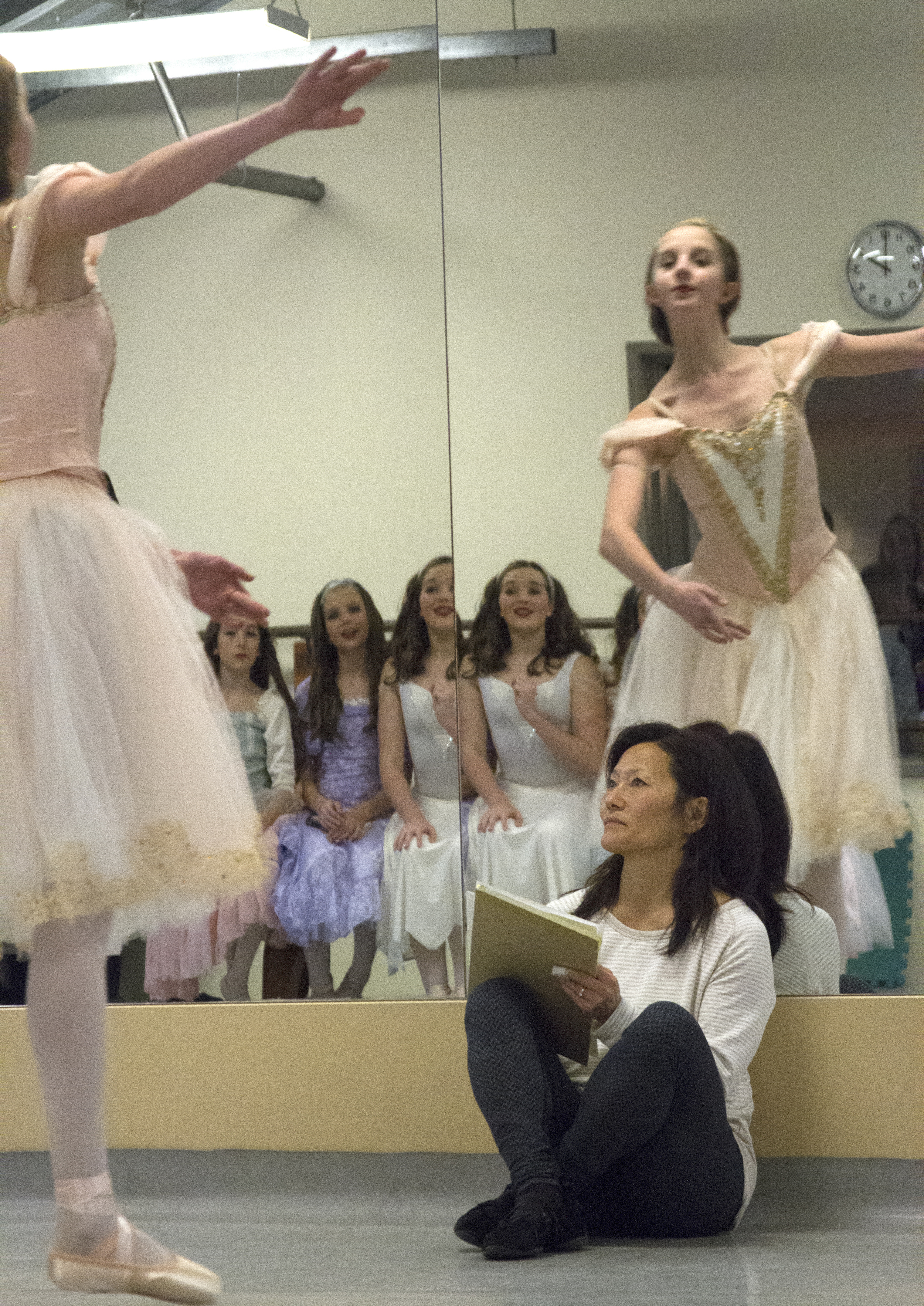 Sara Cramer, founder of Olympic Performance Group watches a practice session of a recent production of "The Nutcracker."
2015 Island Treasure Award recipients Diane Bonciolini and Gregg Mesmer of Mesolini Glass. Many of their pieces have become community staples on permanent display in prominent locales around Bainbridge Island, including the Waypoint park entrance in downtown Winslow, the Beach Glass Quilt on Winslow Way as well as pieces at the library, the Bainbridge Island Aquatic Center and several other locations.
2015 Island Treasure Award recipient Art Grice. An island resident since 1977, Grice has worked as an architectural and fine arts photographer for more than 40 years. He has also been a gallery owner, mentor and teacher. His work has been published in numerous books and magazines around the world, he has produced digital art seminars and a lecture series, curated dozens of exhibitions in numerous museums and galleries and has also served on a number of juries for many different art shows and festivals.
Mike Fagernes, the M/V Evergreen State's last chief engineer, stands before the stack on the sun deck, which is adorned with the gold band awarded all vessels with 50 years of service.
2016 Island Treasure Award recipient Denise Harris in her home studio on Bainbridge Island, Washington. Harris has been a regular Bainbridge Performing Arts contributor both on stage and behind the scenes for more than 30 years. She has also designed and painted sets for numerous productions and also mentored many young thespians. A talented singer, Harris performed with Bainbridge Chorale for many years as well. She designed and carved many iconic business signs at Lynwood Center for such island institutions as Lottie's Place, Heyday Farm, Village Music, O'Connor Architects, Pane d'Amore, the Treehouse Café and more.
Colin Randall, the owner and operator of Silver Screen Video — Kitsap County's last remaining movie rental shop.
Joel Holland, a Puyallup-based farmer specializing in giant pumpkins, sits with his latest gigantic gourd (all 1,030 pounds of it), before delivering it to the Johansson Clark Real Estate office for their annual Halloween display.
Bainbridge Island Police Chief Matthew Hamner uses his sleuthing skills, and carefully considers the evidence, to determine the best pie as one of several judges of the annual Harvest Fair contest.
J'aime Les Crepes owner Paul Pluska cooks for visitors to the Bainbridge Island farmers market outside of his new Madrone Lane shop location prior to its grand opening.
Bainbridge Island Special Needs Foundation client Darien Hellmuth paints during arts and crafts time.
Conductor Wesley Schulz leads the Bainbridge Symphony Orchestra through a practice session.
Bainbridge High School junior and girls golf team captain Claire Lunzer works through a preseason practice session.
Mike. Head barber/owner of Sandy's Barber Shop. Bainbridge Island.
A man poses while taking a break from spinning a sign advertising a tax service company in Poulsbo, Washington.
A man plays guitar on Alaskan Way in downtown Seattle.